Lawn Care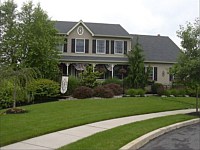 The world is becoming more environmentally conscious today. People are aware that everything they do has some impact on the environment. You're always looking for ways to minimize your carbon footprint and make sure you don't cause any harm, by using organic and eco-friendly products wherever possible.
At Timberrock Enterprises LLC, we have taken up the challenge of providing eco-friendly landscaping solutions wherever possible. We've noticed that whenever our clients here in Easton and the neighboring towns of Bethlehem, Allentown, Stewartsville, Tewksbury, Washington, and Nazareth approach us for our lawn care services, they're concerned about the products we use.
Our clients in Whitehall, Hackettstown, Morristown, Flemington, and Stroudsburg always enquire whether we use organic materials, whether the fertilizers or pesticides we use are environmentally friendly and safe for kids and pets. We always assure our clients that we pay keen attention to their concerns; and place great emphasis on organic lawn care which encourages your lawn to grow healthy and green naturally. We also service Washington, Clinton, Old Wick, Califon, High Bridge, Hampton, Asbury, Stewartsville, and Tewksbury in NJ.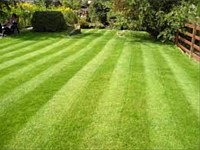 Experienced Lawn Care
We have over 15 years of experience in this industry, making beautiful landscapes and offering dedicated maintenance services. We understand that lawn care isn't an easy job. People don't have the time or the energy to keep their lawns green and growing. We offer our clients comprehensive natural lawn care so that they can simply sit back and enjoy a beautiful lawn without spending time and effort to maintain it. The services we offer are:
Fertilizing – We use an organic and Bio-mass mix for fertilizer, which is very environmentally friendly. To ensure that your lawn stays green, we fertilize it about seven times in a year, using different treatments. If your grass grows thick and healthy, it's more resistant to diseases and pests.


Overseeding – Even if your lawn looks green, seeding after fall ensures that it will continue to be healthy. By overseeding, we prevent your lawns from developing brown patches of dead grass.


Pre and Post-Emergent weed control – We use natural pre-emergent control products to stop weeds from growing. We apply this treatment during springtime. If the weeds do emerge, we carefully apply herbicides in the relevant areas. We never use chemicals on the entire lawn and if the weeds can be pulled naturally, we take that route to treat the problem.


If you want professional lawn care, you need to look no further than Timberrock Enterprises LLC. If you have any questions and queries regarding our lawn care services, you can certainly contact us at 484-764-7175. You can also get in touch with us by filling in the contact us form. We'll get back to you as soon as possible.
Note: service only provided in Pennsylvania.
We Provide Services to the Following Cities and Towns in PA & NJ:
Nazareth, PA
Tewksbury, NJ
Stroudsburg, PA
Emmaus, PA
Macungie, PA
Fogelsville, PA
Center Valley, PA
Quakertown, PA
Hellertown, PA
Washington, NJ
Clinton, NJ
Old Wick, NJ
Califon, NJ
High Bridge, NJ
Hampton, NJ
Asbury, NJ
Stewartsville, NJ